How can we help you? Get in touch with us
SCM
Scanning Capacitance Microscopy (SCM) can be used to observe two-dimensional dopant images, where N- and P-type areas can be distinguished.
This technology can help to analyze failures due to abnormal dopant distribution as well as reverse engineering. SCM can be used as a complementary tool for other tools, such as SIMS and SRP where only information about 1D distribution is obtained.
SCM is one of the functions based on AFM and its spatial resolution is about 20 nm. By applying AC bias on metal-coated probes, 2D dopant distribution can be obtained by converting dC/dV signal, and therefore, N- and P-type areas and interfaces can be distinguished.
N- and P-type dopant analysis
P-N junction distribution analysis
Failures due to abnormal dopant distribution/leakage analysis
Reverse engineering analysis on 2D dopant distribution
Bruker D3100, Multiprobe Hyperion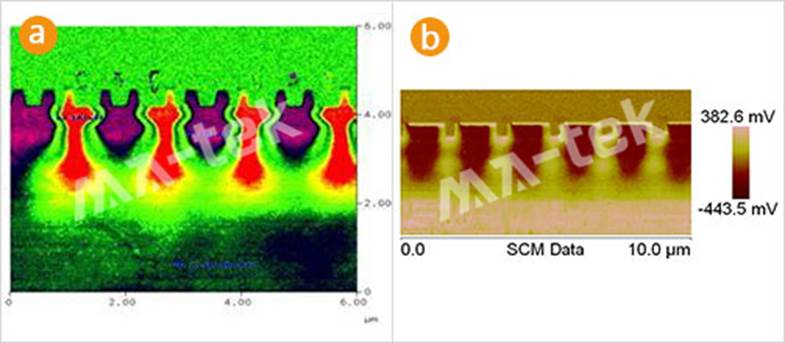 (a) Cross-section dopant distribution on a SRAM sample
(b) Dopant distribution on a CIS array
| | |
| --- | --- |
| P/N-trench dopant distribution | |
Contact

Taiwan Lab

Mr. Liu

: +886-3-6116678 ext:3972/3966

: +886-952-303-813

Shanghai Lab

Mr. Yang

: +86-21-5079-3616 ext:7201

: 137-6486-2001